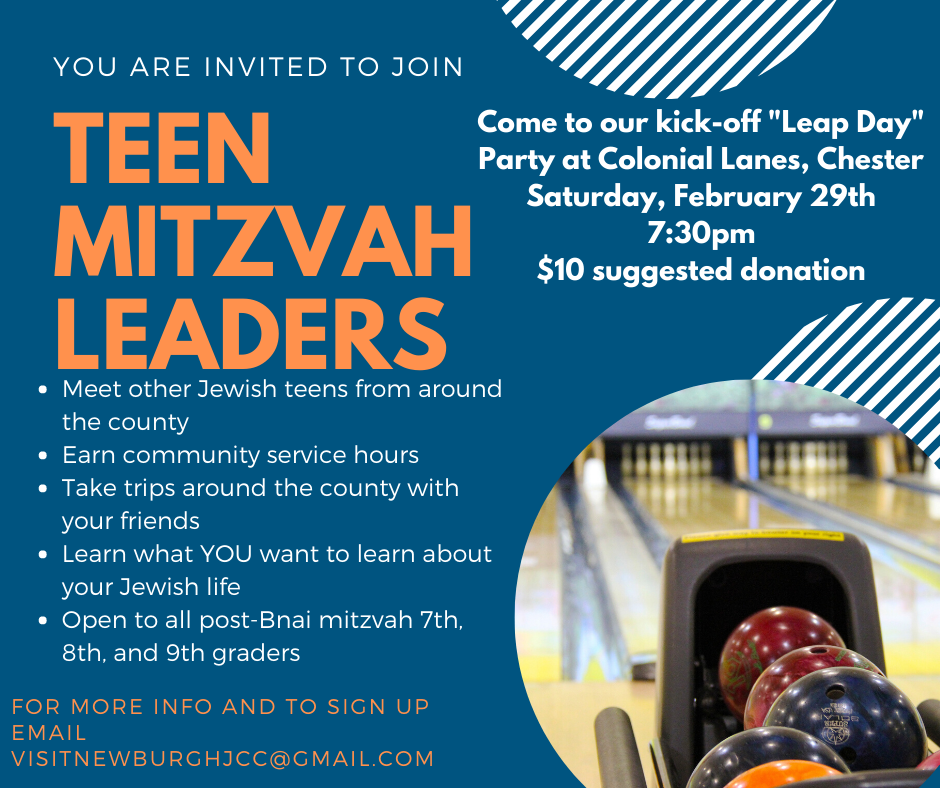 We are very excited about the launch of our newest county-wide youth initiative, Teen Mitzvah Leaders, sponsored by the Jewish Federation and the Newburgh JCC. This program came about after discussions with parents of teens throughout the county who were eager for an opportunity for their post-Bnai Mitzvah child to continue their Jewish learning while meeting other Jewish kids from around the county. We know that some synagogues run wonderful post-Bnai Mitzvah programs through religious schools, and we hope that this program can serve as a complement to the great work already being done. And for those of you without formal post-Bnai Mitzvah programs, we hope this can fill a need among your families.

The program is structured to meet monthly in different venues around the county. The program will be a mixture of classroom learning on Jewish topics that the teens choose themselves, site visits around the county, and direct community service. Some sample trips could include a visit to West Point with learning about War and Peace in Judaism, a community service trip to Safe Homes of Orange County, a visit to the Holocaust Museum in Rockland County, and a clean up day of the Heritage Trail.

There is a Kick-Off Event at Colonial Lanes in Chester on Saturday night, February 29th (after Shabbat). This will serve as an opportunity for the teens to meet each other in a fun environment, and also an opportunity for the teens to give their input on what they want to learn and what trips they are most interested in taking.

Together, we can make this a fantastic new program for our Orange County Jewish families!